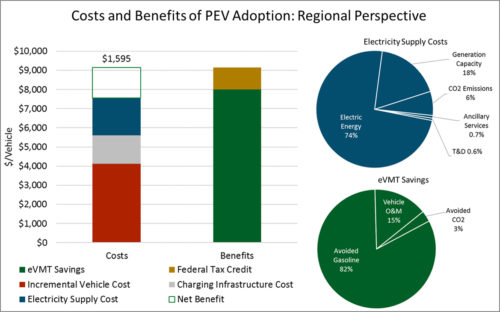 AEP Ohio has filed a stakeholder agreement with the Public Utilities Commission of Ohio that includes $10 million for a plug-in electric vehicle (PEV) charging infrastructure pilot program, posted here. The program includes rebates for up to 75 DC fast chargers and 300 Level 2 chargers throughout its service territory, and will require charging stations to include networking capabilities for data collection. AEP Ohio's program will support the goals of the Smart Columbus initiative, which include decarbonization and electric vehicle adoption.
In support of AEP Ohio's program application, E3 used its Electric Vehicle Grid Impacts Model to estimate the costs and benefits of PEV adoption in AEP Ohio's service territory. E3 found that PEV adoption results in large net benefits for AEP Ohio ratepayers and for the service territory economy as a whole. E3's study concluded that PEV adoption could result in up to $380 Million of direct economic benefits over the next 20 years for the AEP Ohio service territory.
E3 experts Nancy Ryan, Eric Cutter, Lucy McKenzie and Jon Donadee contributed to the study.