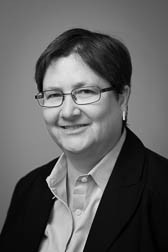 Energy + Environmental Economics, Inc. is delighted to announce that Dr. Nancy E. Ryan has joined the firm as Director of Policy and Strategy. Dr. Ryan is an economist with over two decades of experience in energy and environmental policy. Her career path has included positions in government, academia, advocacy and the private sector.
"Dr. Ryan's extensive experience and diverse professional background will bring a new strategic dimension to E3's services for both our public and private-sector clients" noted E3 Managing Partner Dr. Ren Orans, adding that "she has a demonstrated track record of solving tough problems that will be a tremendous asset to our clients."
Said Dr. Ryan, "With its deep technical expertise and broad client base, E3 provides an ideal platform for me to pursue my passion for promoting a future that is both environmentally and economically sustainable." The E3 team consists of more than 25 energy industry professionals with extensive industry experience and a long history of successful projects and thought leadership, as exhibited in E3's many leading-edge academic publications.
Most recently, Dr. Ryan held a series of senior appointed positions at the California Public Utilities Commission, including Deputy Executive Director for Policy and External Relations (2011-2013), Commissioner (2010-2011), and Chief of Staff to President Michael R. Peevey (2007-2009). During her tenure at the CPUC, Dr. Ryan guided development of California's trailblazing policies in renewable energy, smart grid, energy storage, electric transportation and long term planning and procurement. She also worked closely with senior officials from the California Air Resources Board, the California Energy Commission, the California Independent System Operator and the administrations of Governors Brown and Schwarzenegger to devise strategies to achieve California's ambitious greenhouse gas reduction targets and develop regulations implementing California's cap and trade program for the electric sector.
Before joining the CPUC, she was Senior Economist and Deputy California Director at the Environmental Defense Fund, where she led advocacy efforts focusing on reducing greenhouse gas emissions from vehicles and power plants, curbing air pollution from diesel engines, and restoring rivers and watersheds. She has also worked as a consultant in the energy field and for many years taught applied economics at UC Berkeley's Richard and Rhoda Goldman School of Public Policy. From 1991-1993 she was an Assistant Professor in the Faculty of Commerce at the University of British Columbia.
Dr. Ryan received her Ph.D. in Economics from the University of California at Berkeley, and a BA in Economics from Yale University.