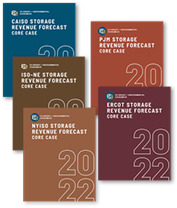 The latest edition of E3's fundamentals-based Market Price Forecast – the 2022 Core Case Edition – is now available for purchase. This edition, along with a new offering for battery storage revenue forecasts, provides actionable insights and forecast data for making sound investment decisions in today's ever-evolving energy marketplace.
These forecasts build on E3's electricity market expertise and industry-leading work with utilities, policymakers, and investors, and cover E3's core markets across the U.S. They present E3's view of the most likely path for a changing energy mix based on current costs and trends, but are also flexible, transparent, and robust, to allow the construction of different sensitivities around each forecast to define a range of market expectations. E3's forecasts are particularly helpful for clients looking for longer-term asset valuation, the revenue potential of emerging technologies like energy storage, and the potential pricing and economic impacts of specific decarbonization scenarios and policies.
Forecast subscriptions offer results through mid-century of:
Hourly day-ahead and real-time energy prices
Hourly ancillary service prices
Capacity/resource adequacy (RA) prices
Renewable attribute values
Each subscription is accompanied by an outline of inputs and assumptions, as well as a detailed market outlook report that covers recent trends, E3 forecast methodology, and a summary of forecast inputs and results.
E3 Core regions include:
CAISO
ERCOT
PJM
NYISO
ISO-NE
The forecasts are available for purchase in the newly revamped E3 Shop. If you would like to learn more, E3's experts are available to answer questions at marketprices@ethree.com.