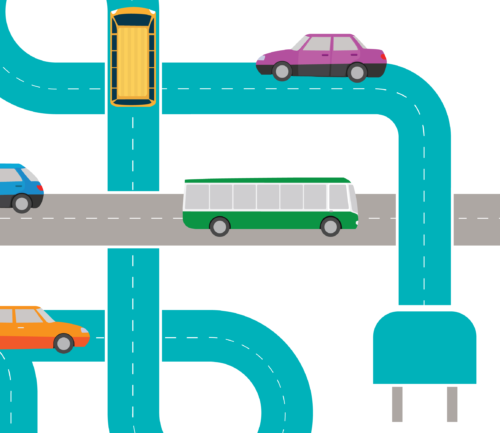 In an industry-leading move, the Hawaiian Electric companies recently published a comprehensive, long-term Strategic Roadmap to jumpstart electric transportation in the Aloha state. E3 provided the utilities significant support in this process, convening stakeholders, analyzing the benefits from plug-in electric vehicles (EVs), and formulating and drafting the Strategic Roadmap. With technical support from CALSTART, we developed a rigorous, data-driven approach to identify high-impact utility actions that will promote EV adoption, minimize costs and grid impacts, and capture maximum benefits for the utilities' customers.
Filed with the Hawaii Public Utilities Commission on March 29, the Roadmap describes the significant benefit that EVs are predicted to provide between now and 2045: $550 per vehicle to ratepayers and $1,800 to the state's economy. These values increase to $1,800 and $2,700, respectively if more vehicles charge in the middle of the day when there's an abundance of solar production on the islands. EVs will also support Hawaii's ambitious renewable energy goals, provide significant CO2 reductions and local air quality benefits, and substantially reduce reliance on imported oil.
The Roadmap outlines key utility initiatives and partnerships designed to realize these benefits. Immediate priorities include:
Boosting EV adoption by working with automakers, dealerships and advocates to lower purchase price and educate customers on vehicle options and benefits
Partnering with third-party charging providers to build out charging infrastructure, especially in workplaces and multi-unit dwellings. Expanding the network of fast chargers in gap areas to reduce range anxiety. Engaging the tourism industry to install win-win charging solutions
Supporting customers to transition to electric buses with targeted efforts to reduce upfront and ongoing costs and support charging. From buses, efforts can move to trucks and other heavy equipment, including at the state's ports, airports and military bases
Creating grid service opportunities that align charging with grid needs, reducing costs and saving drivers money
Coordinating with ongoing grid modernization efforts to ensure smooth grid integration of EVs and optimum use of renewable resources
Included with the Roadmap are 19 letters of support from automakers, NGOs, charging providers, academics, and fleets. The utilities plan to submit further filings aimed at implementing their transportation vision.
In submitting their Roadmap, Hawaiian Electric joins a growing number of utilities around the country and the world that are leading the transition to clean transportation. E3 is excited to be supporting their efforts.
Check out more press from Utility Dive, Greentech Media and Pacific Business News
E3 experts Nancy Ryan and Lucy McKenzie contributed to this work.