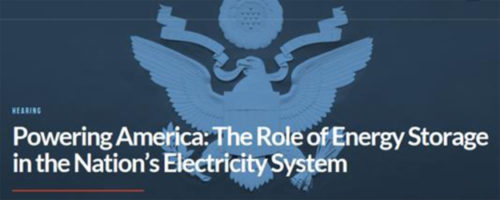 E3 Partner Kush Patel was honored to testify in front of the U.S. House of Representatives Subcommittee on Energy in a hearing titled "Powering America: The Role of Energy Storage in the Nation's Electricity System".  The Subcommittee invited several expert witnesses to examine the growth of energy storage in the context of its costs and benefits to the U.S. grid and its role in wholesale markets.
Kush was asked to testify because of his thought leadership on energy storage and his expertise in its financial and technical complexities. Most recently he led the E3 team that supported the development of the New York State Energy Storage Roadmap.  Kush also works with diverse clients that include utilities, project developers, investors, and policymakers on a variety of energy storage and asset valuation issues.
In his testimony, Kush highlighted the challenges and complexities in valuing the many services that energy storage can perform, especially in the context of "value stacking" those services. "Policies and rules must be established that allow individual storage assets to provide multiple services," Kush explained, adding that fair and equitable compensation is critical to maximizing the benefits of this technology. During the hearing, Kush recommended to the members of the Subcommittee that the federal government encourage state regulators to adjust the process electric utilities use to plan and procure resources such that energy storage is given the same consideration as other technologies that generate, transmit, and distribute electricity.
Kush's written filed testimony can be found here and his oral statement can be viewed here. Check out related press from GTM and NRDC.