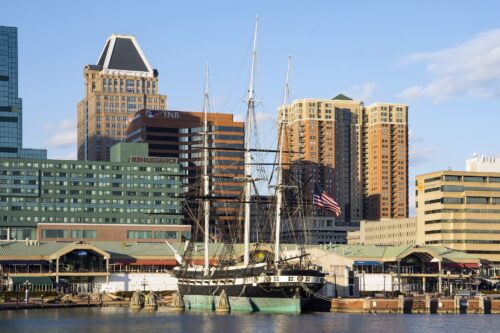 The State of Maryland has begun its transition to a deeply decarbonized economy, building upon over a decade of climate change mitigation efforts, including work led by the State. To achieve the State's climate goals, which were updated and accelerated in the Climate Solutions Now Act of 2022 to target a net zero economy by 2045, it will be critical for Maryland to reduce emissions from buildings, industry, and transportation sectors. E3 worked with Baltimore Gas and Electric (BGE) to explore the necessary transformations needed in BGE's service territory to accomplish the State's goals. As the largest utility in Maryland, BGE has a critical role to play and is a key partner in decarbonizing the Maryland economy.
Working with BGE, E3 developed three alternative decarbonization scenarios that vary both the use of the company's gas and electric infrastructure and the mix of technology solutions that customers adopt across sectors. The Hybrid and Diverse scenarios are Integrated Energy System Scenarios, meaning that they rely on a combination of electric and gas delivery infrastructure to achieve decarbonization. The Hybrid scenario focuses on building electrification with a critical role for natural gas back-up in cold hours of the year. The Diverse scenario focuses on a wide variety of solutions in buildings including electrification, hybrid systems, networked geothermal solutions, and decarbonized fuels. In contrast, the Limited Gas scenario shifts a larger share of energy demands to BGE's electric system.
The study finds that there are multiple paths to decarbonization and any future that meets Maryland's net zero goals will require significant transformations and investments across the economy and demand a critical role for electrification in transportation and buildings. Key findings include:
Pathways that rely on an Integrated Energy System carry a lower overall cost and level of challenge relative to those that rely more exclusively on electrification or renewable gases. Integrated Energy System scenarios may also lessen other challenges associated with large-scale electric infrastructure additions and customer retrofits, as shown in the figure below.

All scenarios that achieve net-zero require significant investments in electric generation and delivery infrastructure, but those costs can be mitigated via an integrated approach.
Consumers are central to the transformations required to achieve net-zero and achieving the scale of adoption envisioned here will require developing solutions that are affordable and work for all customers, equitably.
As Maryland's largest utility, BGE will have an important role in supporting customer adoption of decarbonization options by introducing and scaling new products, programs, and services required to achieve net zero through, for example, research and demonstration programs, incentives, and new types of infrastructure investments.
Regulatory and policy support will be necessary to manage the challenges associated with decarbonization.
The full study is available online and was updated in November 2022 to include a full technical appendix and a minor update to Figure 18 and Figure 19.
In July 2023, E3 developed an updated decarbonization analysis for BGE that incorporates the impacts of the 2022 Inflation Reduction Act (IRA). To capture the impacts of the IRA, this analysis includes new modeling of electric generation across the PJM market, an updated assessment of renewable fuel production costs, electrification incentives, and several other components of the IRA.
A key finding of this updated analysis is that the IRA will reduce the incremental cost of achieving net-zero for BGE's customers and the state of Maryland. The IRA does this by providing Federal financial support for electric sector decarbonization, renewable fuels, and electrification. Importantly, the IRA reduces these costs for all three decarbonization scenarios considered in E3's 2022 Report.
While the IRA makes all the scenarios lower cost, it does not change their relative ordering in terms of cost. The IRA also doesn't change the need for rapid customer adoption of electrification technologies and other clean energy infrastructure additions. Given that, E3 believes that the core conclusions of the 2022 Report, described above, continue to hold.