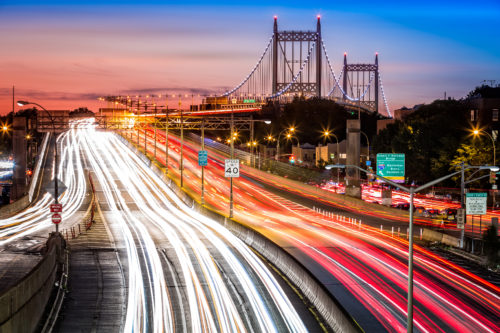 Electric vehicle (EV) deployment in line with New York's ambitious goals can deliver up to $5.1 billion in societal benefits across the state, a new E3 study finds. The first such study commissioned by New York, it quantifies the benefits and costs associated with reaching 850,000 EVs by 2025 and two million EVs by 2030.
The study looks at the economics of EV adoption in three distinct New York regions – the New York Metropolitan area, Long Island, and Upstate New York – which differ significantly in terms of vehicle ownership, driving behaviors, potential EV charging locations, and utility rates.
For each region, E3 calculated benefits and costs in three scenarios: a base case with flat electricity rates; a "behavior modification" case where rates encourage charging outside of peak hours; and a "high infrastructure" case with greater deployment of DC fast-charging (DCFC) equipment to address consumer concerns about charger availability. E3 consulted with New York regulators and utilities and incorporated data from automakers and EV service providers to ensure robust, relevant findings.
E3's analysis found positive net societal benefits from EV adoption in every case and region. Statewide benefits range from $2.8 billion to $5.1 billion and are maximized when utilities encourage off-peak EV charging (see figure). By comparison, expanding the number of DCFC stations has a positive but less pronounced effect. In every region, E3 found that utilities receive more revenue from charging EVs than they spend to serve them.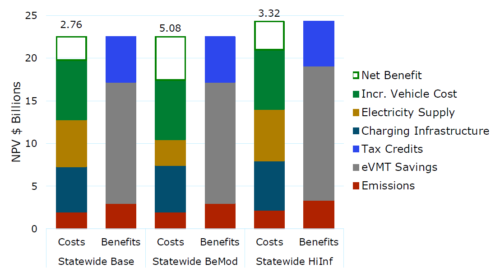 E3 utilized its EVGrid model to perform the analysis. The model produced realistic hourly load profiles, calculated the incremental impacts of EV charging (on the grid, emissions, utility cost of service, and customer bills), and computed net benefits from multiple perspectives: in this case, EV owners, non-EV owning utility customers, and society overall. To get the most accurate results possible, E3 segmented each region's EV drivers into twelve categories based on vehicle type and access to charging.
In announcing the study, New York Gov. Andrew Cuomo touted the state's record-high EV sales: a 63 percent increase in 2018, bringing its total number of EVs to roughly 37,000. With more than a third of its greenhouse gas (GHG) emissions coming from transportation and $25 billion spent annually on transportation fuels, New York has identified transportation electrification as a key element in its State Energy Plan and strategy to reduce economy-wide GHG emissions 40% by 2030. E3's analysis will inform New York's ongoing efforts to develop policy mechanisms and utility investments that maximize EV benefits.
The study, "Benefit Cost Analysis of Electric Vehicle Deployment in New York State," was commissioned by the New York State Energy Research and Development Authority (NYSERDA) and completed in collaboration with ICF International and MJ Bradley & Associates.
E3 experts Brian Conlon, Nancy Ryan, and Eric Cutter conducted the study.