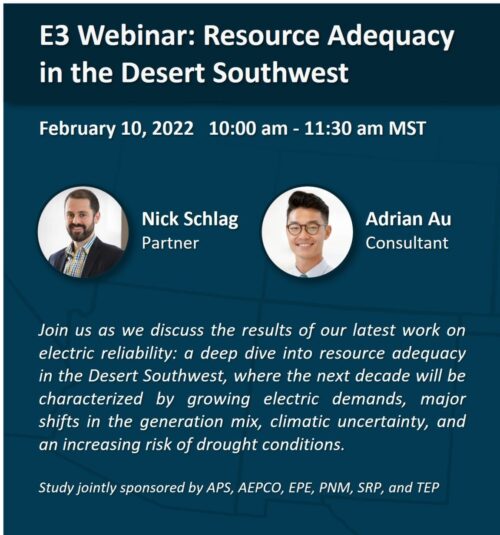 E3 is excited to announce an upcoming webinar for a study that we have recently completed examining resource adequacy in the Desert Southwest. E3's Nick Schlag and Adrian Au will be sharing their perspectives on how best practices in resource adequacy analysis are advancing and will be presenting results from our technical analysis (using LOLP modeling) to show how the region's reliability needs will evolve in the coming decade amidst changes in loads, resources, climate, and hydrological conditions. If you're interested in joining, please register in advance here.
The study, "Resource Adequacy in the Desert Southwest," examines risks to reliability in the region, identifies best practices for resource adequacy planning, and uses these techniques to evaluate the region's readiness to meet upcoming resource adequacy challenges. It was jointly funded by Arizona Public Service Company, Arizona Electric Power Cooperative, El Paso Electric Company, Pubclic Service Company of New Mexico, Salt River Project, and Tucson Electric Power Company. The study and its technical appendices are now available.
The slides from Nick and Adrian's webinar are also published on the E3 site.