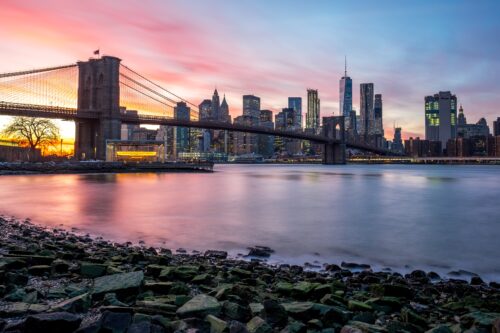 The New York Power Authority (NYPA) released a report developed by E3, in collaboration with GE Energy Consulting, examining the potential for battery storage development at NYPA's Small Clean Power Plant (SCPP) sites.
The analysis in this study builds off a growing body of literature that has examined opportunities to replace peaker plants with battery storage, but it represents a first-of-its-kind approach to examining storage replacement opportunities over time as New York makes progress towards achieving the state's Climate Act requirements. The framework developed for this study examined the transformation of New York City's generation mix as offshore wind, battery storage, and new transmission resources are added over the next two decades, and in turn identified the impact those changes will have on NYPA's SCPP operations. The following are key findings of the study:
As New York State adds more renewable energy, energy storage, and transmission resources to meet the goals of the Climate Act, the study projects that fossil-fired generation in New York City will decline significantly;
Under a more expansive view of decarbonization in New York City, represented in an Alternative Scenario, there may be opportunities to further displace higher-emitting fossil generation, which would lead to significant reductions in NOx emissions;
Based on historical (2019) output levels, the frequency and duration of NYPA's SCPP run-times would have made full replacement with 4-hour battery storage impossible; however, by 2030, due to a projected decrease in both the frequency and duration of SCPP operations, full replacement of the units with 4-hour battery storage becomes feasible for each site, when examined individually
As electrification loads increase and New York shifts to a zero-carbon electricity system by 2040, there will be a system-wide reliability need for energy resources with longer dispatch capabilities;
Given site characteristics and battery density assumptions, each SCPP site presents opportunities for adaptation strategies, including full, or close to full, replacement with battery storage by 2030.


The report was commissioned by NYPA in consultation with the PEAK Coalition, a group of environmental justice and clean energy advocates. PEAK was also supported by independent advisory services from Strategen Consulting. The study advances the goals of an agreement signed in 2020 between NYPA and the PEAK Coalition to assess how NYPA could transition its natural gas fired small clean power plants to use clean energy technologies, such as battery storage and low to zero carbon emission resources and technologies, while continuing to meet the unique electricity reliability and resiliency requirements of New York City.
Following the release of the study, NYPA announced a request for proposals (RFP) for potential use of its small clean power plant sites and related electric infrastructure for the development of bulk-scale battery storage projects.
The full report can be found on E3's site and on NYPA's website along with a press release. E3's Kevin Steinberger, Emily Rogers, Louis Linden, Greg Gangelhoff, and Lakshmi Alagappan contributed to the study.