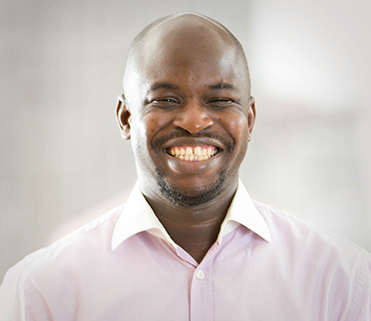 Oluwafemi (Femi) Sawyerr

Your browser does not support the audio tag.
Oluwafemi (Femi) Sawyerr joined E3 in 2016 and works in E3's Integrated System Planning practice area, where he helps utilities, state agencies, grid operators, and project developers prepare for and implement a modern electricity grid that utilizes large amounts of renewable resources. His recent work includes managing E3's support of the California Public Utility Commission's (CPUC) Integrated Resource Plan's (IRP), including leading the Busbar Mapping analysis that supports the California Independent System Operator's (CAISO) Transmission Planning Process (TPP). He also led E3's Oregon Renewable Energy Market and Industry Assessment on behalf of the Oregon Department of Energy (ODOE); which sought to estimate the quantity and location of renewable resource development in the state of Oregon in different geographic and policy scenarios.
Originally from Nigeria, Femi has a firsthand understanding of renewable energy and sustainable manufacturing in developing countries. He is interested in how challenges at the nexus of sustainability and energy, especially electricity, have local, national, and global consequences. Understanding these impacts is increasingly important as these nations seek to improve their infrastructure in a climate-constrained world.
Femi is also a passionate dancer who travels across the country taking classes and dancing with world-renowned professionals. He has performed in salsa and bachata routines in Ann Arbor, Michigan; Cincinnati; San Francisco; and Reno, Nevada—in competitions, in performances, and just for fun.
Education: MS, natural resources and environment, University of Michigan; BS, applied physics, University of Lagos, Nigeria
FULL E3 TEAM