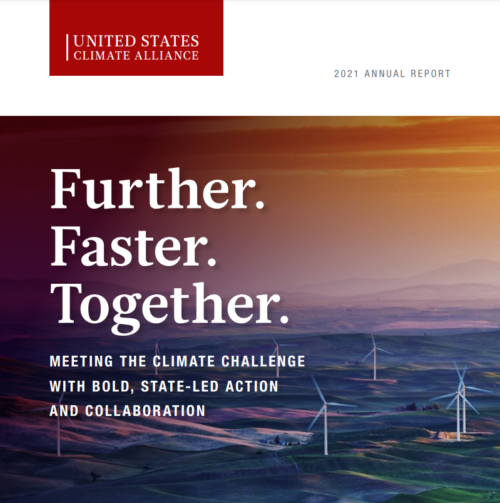 Last week, the U.S. Climate Alliance released its 2021 Annual Report. The report highlights the progress Alliance members have already made toward reducing greenhouse gas (GHG) emissions, and using E3's modeling, details multiple scenarios of Alliance-wide GHG emissions through 2050. It concludes with future actions that Alliance members can take to achieve their climate goals and the additional collective action needed beyond state targets to meet the federal GHG goals established by the Biden administration.
The Alliance's 2021 Annual Report shows that Alliance members have cut GHG emissions through policies already enacted. Achieving their own established climate targets, especially in combination with proposed and feasible federal actions, would further drive down GHG emissions, creating dramatic reductions by 2050. However, even with these achievements, collective action by Alliance members and the federal government will be necessary to meet their collective 2030 and 2050 emissions-reduction goals. Taking the collective actions detailed in the report, from "transitioning to zero-carbon energy sources to generate electricity to increasing the efficiency of our buildings, cars, trucks, and industries while using electricity and low-carbon fuels to power remaining demand," would make possible the 2030 and 2050 targets that the Biden Administration established earlier this year.
To support the Alliance's report, E3 evaluated Alliance-wide GHG emissions through 2050 using E3's PATHWAYS and RESOLVE models. The GHG emissions scenarios developed for the Alliance were:
Reference Scenario – Includes only existing policies in Alliance states
Federal Action Scenario – Includes proposed and feasible federal GHG reduction actions
Collective Action Scenario – Includes additional ambitious actions by Alliance states of the federal government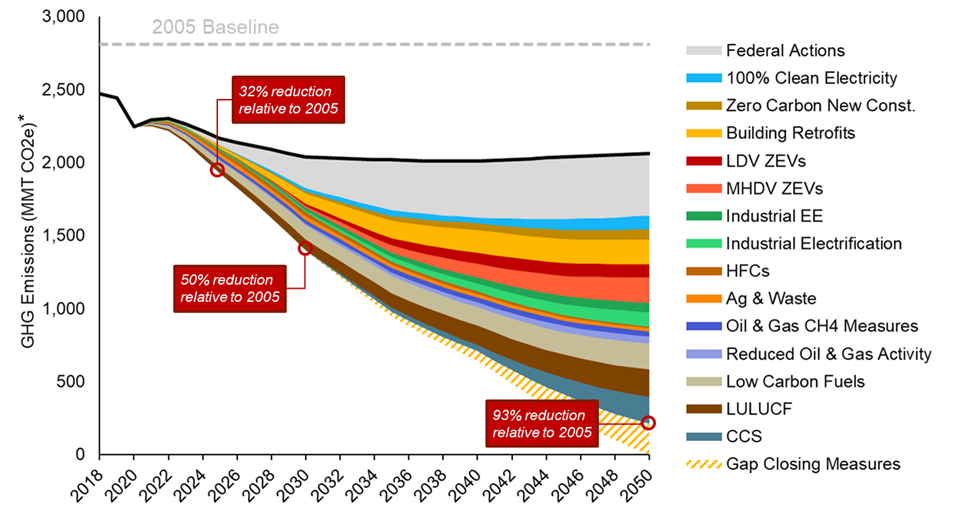 These scenarios and E3's modeling highlighted the gap between the GHG reductions that would be possible with proposed state and federal policies and the reductions necessary to meet established federal targets. E3 also modeled the emissions impacts of the collective actions that would help bridge that gap. The E3 team responsible for creating the scenarios and analyzing the collective actions included Tory Clark, Rawley Loken, Charlie Duff, John de Villier, and Jen Cardona.
Both the summary of the study and the full report can be found on the U.S. Climate Alliance site.
---
*All emissions reported using AR4 100-year GWP; Wedges show emissions reductions relative to Federal Action Scenario emissions in future years.