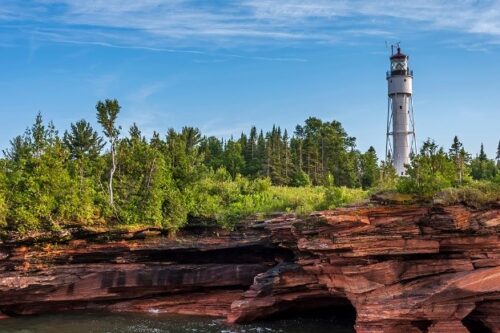 E3 and Willdan developed a decarbonization plan for the National Parks of Lake Superior Foundation (NPLSF) to eliminate greenhouse gas emissions from land-based operations across five national parks in the Lake Superior region. The plan proposes an estimated investment of $15 million across Apostle Islands National Lakeshore, Grand Portage National Monument, Isle Royale National Park, Keweenaw National Historic Park, and Pictured Rocks National Lakeshore. The plan's recommendations include a broad set of energy efficiency upgrades, electrification of space and water heating in 131 buildings, electrification of all land-based vehicles, and the installation of on-site solar and battery energy storage.
The project team developed an investment plan for each of the parks to achieve 100% decarbonization in land-based operations by reducing building energy demand, eliminating fossil fuel use, and switching to renewable electricity. The E3 team completed the supply-side energy assessment for this plan, which identified strategies to supply the parks with renewable energy. For off-grid locations, these strategies include on-site solar and battery energy storage. For grid-tied locations, the team analyzed on-site solar as well as opportunities to purchase off-site renewable energy through local utilities. To evaluate each scenario, the team used E3's RESTORE model, a custom hourly distributed energy resource dispatch modeling tool, which includes the simulation of optimal battery energy storage operation.
The decarbonization plan, announced on January 28 at the Great Northern Festival in Minneapolis with an address by U.S. Senator Tina Smith of Minnesota and by National Park Superintendent Denice Swanke, is the first step of the Decarbonize the Parks project to cut greenhouse gas emissions and pursue net-zero energy consumption in the parks. "Decarbonizing is not only the right thing to do for our five parks on Lake Superior, but it will also act as a realistic model for other National Parks and public lands," said Tom Irvine, the Executive Director of the NPLSF. "By using air source cold climate heat pumps in one of the coldest regions in the U.S., we're helping demonstrate that this technology is ready for nationwide adoption," said Tom Brisbin, Willdan's CEO and Chairman. "Other parks, businesses, and even cities can apply this plan's decarbonization strategies, such as combining solar photovoltaic energy generation with battery storage, electric vehicles, and using electric heat pumps to heat spaces and water."
The E3 staff supporting the plan include Snuller Price, Lindsay Bertrand, Jared Landsman, Tara Katamay-Smith, and Andrew Solfest. The plan summary can be downloaded from the NPLSF website.