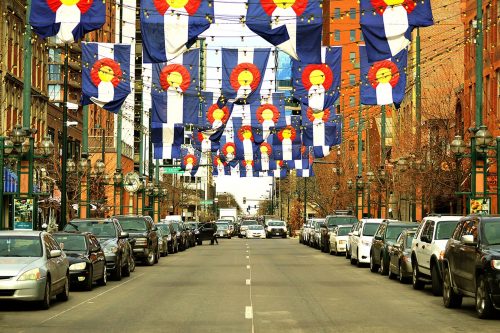 To identify strategies to meet its 2025, 2030, and 2050 emissions reductions targets, the State of Colorado recently released its Greenhouse Gas Pollution Reduction Roadmap. The Roadmap, which E3 supported with scenarios analysis using our PATHWAYS and RESOLVE models, presents actionable and achievable steps that Colorado can take to significantly reduce greenhouse gas (GHG) emissions over the next five, ten, and thirty years. While the state has already taken important steps toward decarbonization, E3's analysis found Colorado will need to take additional policy action to meet the climate goals established in 2019 in the state's Climate Action Plan to Reduce Pollution (HB 1261) targets of 26% GHG emissions reduction by 2025, 50% by 2030% and 90% by 2050 from 2005 levels.
The Colorado Roadmap relied on E3's PATHWAYS model to show the state's progress towards its targets, accounting for and simulating emissions for all sectors of the economy. To analyze Colorado's future GHG reductions, E3 developed and analyzed three scenarios: Colorado policies that were in place prior to 2019 (Reference scenario), recently adopted policies (2019 Action scenario), and a more aggressive scenario that includes additional measures needed to meet Colorado's GHG reduction targets (HB 1261 Targets scenario). In 2019, the Colorado legislature adopted building energy efficiency and vehicle electrification measures that push the 2019 Action scenario closer to the state's existing GHG reduction targets. Despite important contributions toward GHG reductions made by the 2019 legislative action, the HB 1261 Targets scenario showed signification future policy action will be needed to reduce emissions across all economic sectors, but especially in vehicle electrification, renewable electricity generation, and building efficiency and electrification as well as emissions reductions in the manufacturing, agriculture, and mining sectors.
Both the Roadmap and E3's contributing analysis portray a climate-leading state progressing toward its goals. Armed with the analysis and action plan embedded in the Roadmap, Colorado Governor Jared Polis and the state's legislature now have the information and actionable strategies to take the ambitious next steps to achieve Colorado's deep decarbonization goals by mid-century.
The final report, co-authored by E3's Sharad Bharadwaj, Rawley Loken, Jasmine Ouyang, Tory Clark, and Amber Mahone, is available here.