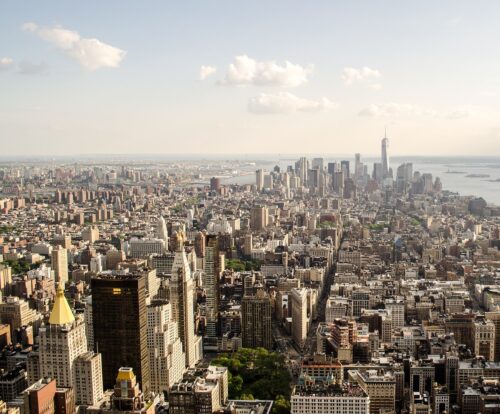 Last month, E3 completed the development of New York City's Local Law 97 (LL97) Implementation Action Plan. The implementation action plan recommends specific, scalable steps to achieve the goals set out in the legislation, and the City has committed a budget of nearly $4 billion over the next nine years to invest in New York City's assets, facilities, and energy supply. The project team that completed the modeling and technical analysis underlying the plan's recommendations included a wide array of E3 experts working with a collaborative team from across Willdan, E3's parent company.
Passed in 2019, LL97 is ambitious climate legislation that mandates greenhouse gas emissions reductions for New York City's portfolio of government and private buildings. A key component of LL97 is that it requires City operations to reduce emissions 40% by 2025 and 50% by 2030, compared to a 2006 baseline. E3 worked with the New York City Department of Citywide Administrative Services (DCAS) to create an action plan to achieve these carbon emissions reduction targets.
The action plan calls for a broad set of interventions, including:
investments in cost-effective emissions reduction opportunities (EROs);
converting more municipal buildings' heating to electric power;
expanded solar installations to generate 100 MW of solar power on City properties annually by 2025;
100% renewable electricity to power city government operations by 2026;
energy and emissions reduction projects at wastewater and water treatment facilities; and
electric vehicles and renewable fuels for New York City's vehicle fleet.
The Action Plan was developed through an analytical process comprising four primary steps: (1) Agency Building Segmentation; (2) Emissions Reduction Opportunity Assessment; (3) City Emissions Reduction Scenario Analysis; and (4) City Buildings Pathways Development. Our team developed prototype building energy models for the City's major building types to represent their typical operations and energy usage. We then identified and modeled EROs that are applicable to the modeled buildings and developed their implementation costs to help understand which EROs would be relatively cost-effective to implement. The Action Plan puts forth an anticipated City emissions reduction scenario in combination with a recommended buildings pathway. The recommended buildings pathway is comprised of four major interventions: (1) planned energy efficiency projects, (2) investment in on-site solar, (3) heat electrification initiative, and (4) additional energy efficiency projects.
Recent press releases from the office of (former) New York City Mayor Bill de Blasio and from Willdan, E3's parent company, included quotes from key individuals highlighting the significant of this work.
"These record investments reflect the City's unwavering commitment to fighting the climate crisis," said Dawn M. Pinnock, Acting Commissioner of the NYC Department of Citywide Administrative Services. "Climate change is happening now, and city government must be aggressive in taking steps now to reduce emissions and break its dependence on fossil fuels."
"The Local Law 97 Implementation Action Plan is the culmination of a year-long effort to outline a path forward for New York City to achieve the ambitious emissions reduction targets mandated by Local Law 97 of 2019," said Anthony Fiore, Deputy Commissioner for Energy Management at the NYC Department of Citywide Administrative Services. "The DCAS Division of Energy Management is grateful to the many stakeholders across the City, including all City agencies and the Mayor's Office of Climate and Sustainability, for their partnership in this effort."
"The creation of this plan showcases Willdan's multi-disciplinary approach to projects," said Tom Brisbin, Willdan's CEO and Chairman. "The project management and plan development were led by our most recent addition to the Willdan family – Energy and Environmental Economics (E3) – due to their expertise in decarbonization planning. Our engineers had already been working throughout City buildings and provided insight on technical feasibility and technologies. And finally, our proprietary software applications – NEO and B3 – allowed us to rapidly and efficiently model and benchmark City buildings for evaluation."
The Local Law 97 Implementation Action Plan required contributions from across both E3 and the Willdan family. It is a testament to the firm's interdisciplinary collaboration. Staff from throughout organization supported the report including E3's Zak Suttile, Kevin Steinberger, Kenzie Schwartz, Mike Sontag, Jun Zhang, Charles Li, Michaela Levine, Niki Lintmeijer, Liz Wilson, Snuller Price, and Amber Mahone as well as Willdan's Steve Eber, Sean Chavez, and the NEO/B3 energy modeling team including Jim Douglas, Rich Peske, and Renee Hutcheson.