RESOLVE is an electricity resource planning model that identifies optimal long-term electric generation and transmission investments subject to reliability, policy, and technical constraints. Designed in 2014 to assess the investment needs of systems seeking to integrate large quantities of variable renewable resources, RESOLVE identifies optimal portfolios of renewable and conventional energy resources through capacity expansion and production simulation modeling. Optimal investment plans account for the capital costs of new resources, the variable costs of reliably operating the grid, and additional values such as environmental attributes. RESOLVE has been used to support resource planning and valuation for dozens of clients across North America.
Historically, resource planning focused on the balance between capital-intensive resources with low operating costs (baseload resources) and low-capital cost resources with higher operating costs (peaking resources). In this traditional resource planning paradigm, simple modeling approaches using load-duration curves were adequate for determining optimal investment plans for a given load forecast. In decarbonizing power systems, variable renewables and battery storage resources are increasingly likely to be the new energy and capacity investments of choice given evolving resource costs and policy targets. Evaluating investments in these resources requires an understanding of system dispatch, with chronological simulation needed to capture constraints on resource availability and operations.
RESOLVE co-optimizes investments and operations to minimize total system costs, subject to constraints such as clean energy standard targets, greenhouse gas emissions targets, resource adequacy requirements and operational reliability parameters. In today's environment, capacity expansion modeling is a crucial tool for evaluating investment plans with high levels of renewables and energy storage for which the vast majority of costs are related to upfront capital investment.
Many electric-sector planning studies have used or are currently using this model: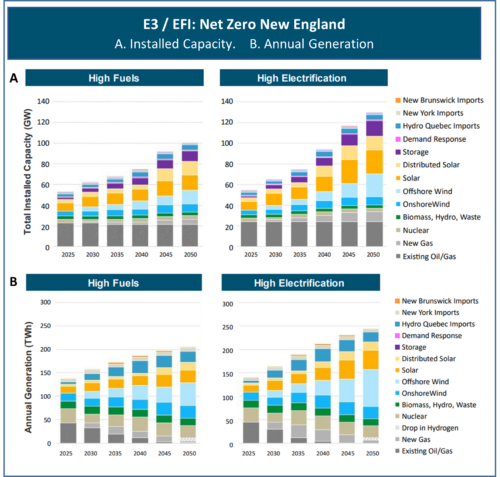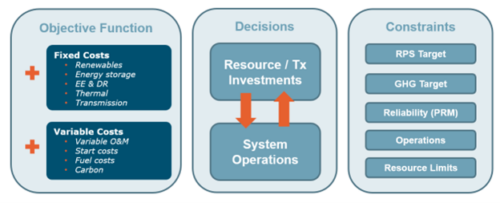 All Tools