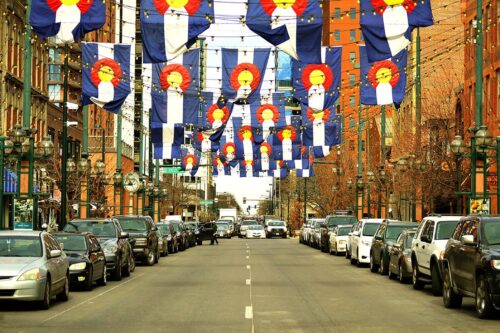 In a new study published by the Colorado Energy Office, E3 examines the potential role that hydrogen could play in the decarbonization of Colorado's economy. The report, Opportunities for Low-Carbon Hydrogen in Colorado: A Roadmap, outlines the state of the hydrogen market and potentially promising applications in Colorado, highlighting unique characteristics that could support hydrogen development in the state. The Roadmap distinguishes both opportunities and barriers to the deployment of hydrogen, as well as key steps that Colorado can take to realize its hydrogen potential.
Under the leadership of Governor Jared Polis, Colorado has established ambitious, science-based climate targets that lay the policy groundwork for decarbonization. Low-carbon hydrogen could play a role in achieving these targets, making use of advantages specific to the state. First, with abundant wind and solar resources, Colorado could produce the low-carbon green hydrogen needed to supply some of the end-uses outlined in the report. Second, existing infrastructure in the state, including both geologic formations and an existing pipeline network, could support the development of a low-carbon hydrogen supply chain. Lastly, Colorado has many institutions – research facilities, technology providers, and industrial players – that can facilitate hydrogen deployment.
E3's study analyzed the economics of hydrogen supply as well as the short and long-term potential for different end-use applications in the Colorado economy. Our analysis found that:
Hydrogen produced from renewables could achieve cost parity with hydrogen from SMR with CCS by the mid-2030s.
Hydrogen delivery via pipeline and a large-scale central hub of storage, potentially making use of Colorado's existing gas storage facilities, are likely to be the most cost-effective opportunities for transport and storage if hydrogen were to be deployed at scale.
With the addition of a refueling station network and more vehicle availability, medium and heavy-duty vehicles represent a promising short-term application for hydrogen.
Hydrogen has significant potential in the medium term for the electric sector, especially as decarbonization targets become more stringent and the need for long duration storage increases.
Applications such as the use of hydrogen in Light Duty Vehicles (LDVs) and buildings are not
expected to become cost-effective over decarbonization alternatives in the short term, but may provide other benefits to consumers and to the energy system as a whole if a hydrogen market develops at scale.
Although the production and consumption of hydrogen presents opportunities for the State of Colorado in a decarbonized future, significant barriers to the deployment of hydrogen still exist. E3 concludes its analysis with a roadmap and recommendations to the state to successfully deploy hydrogen as a low-carbon fuel in the next fifteen years. Among other recommendations, this roadmap calls for the creation of a Colorado Hydrogen Plan with concrete actions for the deployment of hydrogen, development of pilot projects related to the use of hydrogen in electric and gas infrastructure, and investigation into regional early-deployment hydrogen hubs.
The full report, including opportunities and barriers to success, can be found here. E3's Niki Lintmeijer, Mengyao Yuan, Anthony Fratto, John Stevens, Tory Clark, and Amber Mahone contributed to the study.