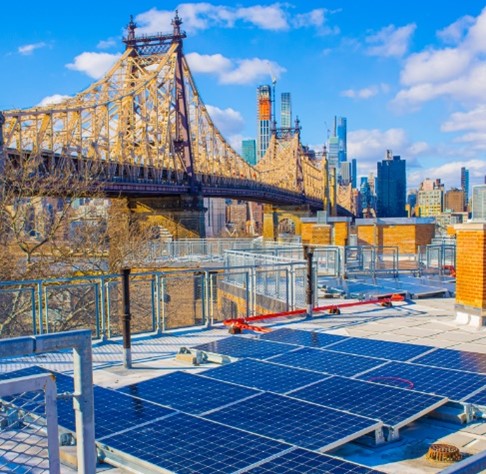 Last week New York City published PowerUp NYC, the City's first Long-Term Energy Plan (LTEP). PowerUp NYC will serve as NYC's roadmap to accelerate New York City's commitment to meet its clean energy and greenhouse gas reduction goals. As part of the LTEP, and in collaboration with community leaders, energy experts, local energy system representatives, and NYC residents, the E3 team led an inclusive, year-long study to identify the policies and programs needed to achieve the City's decarbonization goals.
E3's analysis involved both examining policies and programs to meet the city's long-term goals as well as providing specific recommendations for actions to be taken during the current administration. The study included eight research branches focused on the performance and cost of heat pumps in new buildings; the affordability of electrification retrofits in rent-regulated housing; the opportunities for electric school bus managed charging and vehicle-to-grid; the potential for in-city wind energy; a screening of public lands for new clean energy development; an assessment of the electric grid readiness for increasing heat pump and EV charging loads; and an evaluation of how bulk energy storage could reduce reliance on in-city fossil generation. Based on E3's study, PowerUp NYC includes 29 clean energy initiatives focused on the city's energy grid, its buildings, and its transportation sector.
Many aspects of the PowerUp NYC, from research topic selection to recommendations, were developed in collaboration with the public, and with the public's interest at the forefront of the decision-making process. The recommendations of the LTEP are aligned with long-term energy and equity policy mandates from both the City and State and revolve around the needs of NYC residents. The solutions outlined in the report not only align with NYC's decarbonization goals, but also promote climate justice and contribute toward a just energy transition.
A large and interdisciplinary E3 team contributed to the study, the analysis, and the final report including Zak Suttile, Sam Lang, Snuller Price, Amber Mahone, Dyami Andrews, Molly Bertolacini, Hayden Dahmm, Andrew DeBenedictis, Christa Heavey, Jared Landsman, Michaela Levine, Caitlin McMahon, Chelsea Petrenko, Paul Picciano, Kenzie Schwartz, Jordan Shenhar, Sierra Spencer, Andrew Solfest, Kevin Steinberger, and Zach Tzavelis, as well as Willdan's Zhen Han, Jason Trager, and Sean Chavez.